| | |
| --- | --- |
| Looking Back at Arras, France | |




Basketball can take you to unexpected places

Perhaps the above words have never been more true for me than in March 2008, shivering in a chill wind on Vimy Ridge overlooking Arras, France - a town of about 50,000 about two hours from Paris, and a key site of the famed Western Front of the First World War.

Last March, my family and I made the trip "across the pond" to visit our friend Sheana Mosch (Duke '03) and see her play professionally in the top French women's league, the Ligue Feminin de Basketball, or LFB for short. Sheana had a stellar season for Arras Pays d'Artois, leading the league in scoring and making the league all star team. The game we attended was a critical one for her team - a loss to Mourenx & Kaayla Chones (formerly of NC State) quite possibly would have left Arras at the bottom of the league, risking "relegation" to a second-tier league the next season. Arras pulled off the win quite convincingly, but it was a tough night for Sheana. Playing not nearly 100% on a sore foot, she "only" scored 15 points on 5/12 shooting (4-9 3FG) with 7 boards and 4 assists - and that being a "tough night" merely speaks to the level her game has reached.

This season Sheana has moved on to another team, Lattes Montpelier, and continues to be an LFB star. But since those days, and especially on this day, my memories of France turn not to the packed Centre Sportif Municipal de Richard Tetelin and Sheana's boisterous French supporters, but to other times we spent with Sheana - visiting the preserved trenches, cemeteries, and Canadian Memorial at Vimy Ridge, and the British Commonwealth Military Cemetery of Faubourg-D'Amiens, a mere three blocks from the sports arena.

The human toll in the World War I battles in and surrounding Arras was staggering. The Allied armies in the Arras Sector were British, led by Field-Marshal Sir Douglas Haig. The German armies were led by von Falkenhausen and von der Marwitz. The 1917 Battle of Arras began with a decisive Allied victory at Vimy Ridge, where extensive Allied tunneling helped largely Canadian troops overrun a German command post and take the ridge. 3,598 Canadians perished in that effort, and today Vimy Ridge is the site of the Canadian National Vimy Memorial, where the names of over 66,000 Canadian war dead are inscribed. 11,000 of those have no known grave - many were buried where and when they fell, and as battle lines moved back and forth during the war, the graves were obliterated, their last resting places lost forever.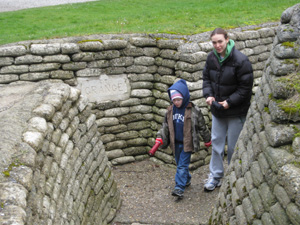 While some of the trenches outlying Vimy were preserved as a living museum, much of the area is still restricted due to unexploded mines and other armaments - the trees and grass have come back in the many years since then, but that is all. The land keeps its dead. Some were buried in what is now known as Canadian Cemetery No. 2, 3,000 in all. More than 2/3 of these graves are unnamed, marked only with nationality (when known) and the phrase "A Soldier of the Great War - Known Unto God." This phrase is attributed to Rudyard Kipling, who lost his son in the war, and later served on the Commonwealth War Graves Commission. Today the Commission maintains this and other military cemeteries, employing a staff of more than 400 in France alone, and in preserving these gardenlike cemeteries is the world's largest horticultural organization. They also preserve this history on-line with their "Debt of Honour" Registry.

In Arras proper, Faubourg-D'Amiens holds 2,651 Commonwealth soldiers, all named and moved from battlefield graves to this site. It memorializes 35,945 more officers and men who have no known grave. 1,000 British Airmen with no known grave are also remembered here in the Memorial to the Flying Services, the predecessor to the R.A.F. It was aptly placed here - the average lifespan of a British pilot over Arras was less than 18 hours, with the skies ruled by the deadly squadron of the "Red" Baron, Manfred von Richthofen.

The war dead named here alone are many - more dead than four sold-out Cameron Indoor Stadiums - but they are only a fraction of the 160,000 Allied soldiers who perished in the Battle of Arras between April 9 and May 17, 1917. On the other side of the lines, a roughly equal number of German soldiers also perished. Still, that deadly battle makes only about six percent of the 2.6 million Allied deaths on the Western Front.

With those deaths, and nearly three times that number wounded in action, countless lives were touched. The inscriptions on the headstones at Faubourg-D'Amiens, selected by family members of the deceased, drive that fact home. The grave of Royal Lancaster Serjeant Samuel Howard, 25, reads, "His name is written in letters of love on the hearts he has left at home." The grave of Middlesex Regiment Private W. Smith, 22, reads, "Pass not this stone in sorrow but in pride, and may we live as nobly as he died."

Today, on Veterans Day, 90 years from when Armistice Day ended the bloody "War to End All Wars," the challenge of these words touches me - as difficult to face now as when I stood in the cold in Arras.

The annual US Veterans Day commemoration of Armistice Day may be just a midweek inconvenience to some people. While it was always meaningful to me, it's now permanently cast by the journey we took last March.

Basketball can indeed take you to unexpected places - if you look for them.
---
To learn more about the Battle of Arras and its cemeteries, visit the Commonwealth War Graves Commission website where pamphlets about their past and present work and war history are available. More detailed information can be found in the Wikipedia article Battle of Arras (1917). Materials from each served as supplementary sources for this piece.